Bolivia is a developing country in the heart of South America. Fly to La Paz, its administrative capital to explore this unpolished diamond. La Paz sits on the Bolivian Plateau, at an altitude of about 12,000 feet. Although Bolivia is poor, it had a wealth of natural treasures. These riches shine through the country's high altiplanos, tropical lowlands, mountains of silver, extraordinary islands, and infinite salt deserts.
La Paz is the tourism capital of Bolivia and like Bolivia, it may be rough around the edges but it sparkles inside. Look beyond this city's lifestyle, cuisine, and architecture to find real jewels from the 16th-century colonial mansions to modern buildings. Despite all the destruction caused by the Spanish colonial masters, they polished and shaped many Bolivian cities. Some buildings they erected upon founding La Paz include the Presidential Palace and the National Congress. As devoted Catholics, the Spanish also built the Metropolitan Cathedral which was dedicated to the Lady of Peace.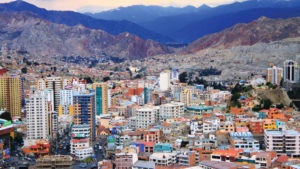 Although the 21st-century comforts have slowly trickled in, Bolivia is still a country of unbreakable traditions. Many locals embrace their Inca, Aymara, and Quechua heritage and their women still wear highlands colorful clothing.
The Plaza San Francisco is a convenient meeting point in the heart of this city where you can mingle with the locals. Its 18th-century basilica is home to an art museum with a collection of historic paintings. At the Museo Nacional de Arte is housed in a Spanish colonial mansion and you will see artworks by modern artists here.
For a different kind of cultural experience, visit the Witches' Market to marvel at the potent herbal remedies, carved amulets, and mummified llamas.
See how La Paz outer suburbs spill out in the valley and cling to the steep mountainsides of Laikacata. Here you will get to catch a glimpse of the rugged peaks of the surrounding valley calling on you to explore some of Bolivia's natural gems.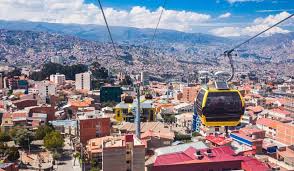 The Tiwanaku Cultural Heritage Site is another La Paz hidden treasure. This historic cultural site dates back to some 2,500 years. In the nearby Lake Titicaca, Bolivia really sparkles. By bus, Titicaca is half a day from La Paz. It is one of the highest navigable lakes in the world. This jewel is well worth exploring, and it straddles the Peruvian border. With its breathtaking islands, the icy cold lake is home to one of the oldest surviving cultures in the world: the Uru people. Many Uros still live on the floating islands and have survived in the extreme climate. Watch them as they enjoy life's simple pleasures or treat yourself to one of their handicrafts.
Flying south to Salar de Uyuni makes it more obvious that Bolivia is a diamond in the rough. You will come across glistening salt lakes and boiling hot springs as you skim over its surface in a four-wheel drive. Stay in a hotel made almost of salt for a unique experience.
Whether you engage in thrilling outdoor adventures or you visit its heritage cities, you will definitely be rewarded with beautiful memories.
A big shout out to our friends at Ombre brows NYC for helping with this post.  We used their services and it turned out fabulous.  They are the best at Microblading NYC.